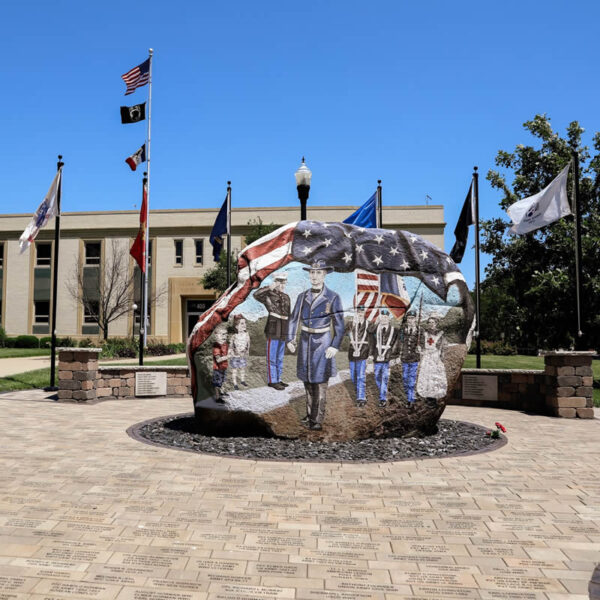 Tipton is a very small city located in the south east area of Iowa. With a population of 3,223 people and just one neighborhood, Tipton is the 113th largest community in Iowa. It is the county seat of Cedar County. According to the United States Census Bureau, the city has a total area of 2.09 square miles, all of it land.
Tipton, Iowa was founded in 1840 by Henry W. Higgins and was named after Higgins' good friend John Tipton. The city was incorporated on January 27, 1857.
Tipton is served by two highways: Iowa 38 (which runs north and south through town) and Iowa 130 (which enters Tipton from the east, meets Iowa 38 in the business district, and then runs north in conjunction).
Please visit the Tipton Calendar of Events.
Carnegie Library & Grant Wood Art Collection
206 Cedar Street
563-886-6266
www.tipton.lib.ia.us
The 1903 Carnegie Library has been carefully preserved over the years and houses a stunning display of original Grant Wood art, including 17 lithographs and 2 oils. Visitors will also find an oil by Marvin Cone and an original oil naïf and two prints by Polly Kemp.
Cedar County Historical Museum
1094 Hwy 38
563-886-2899
http://cedarcountyhistoricalsociety.webs.com
The Cedar County Historical Museum features thousands of historic artifacts, photos, and documents from all over the county. A schoolhouse, church and blacksmith shop have been moved to the museum grounds and they join the 1842 Fraseur Cabin that is already in place. Come and learn about the early settlers of this area, the Prairie Village, the infamous "Cow Wars", and much more!
Cedar County Raceway
1195 220th Street
The Cedar County Raceway is a ¼ mile dirt oval track. For more information, please check out their website at:
https://www.loc8nearme.com/iowa/tipton/cedar-county-raceway/4566919/
Cedar County Fair, July 12 – 16, 2023
1195 220th Street
The Cedar County Fair is a 5-day family fun event and the busiest 40 acres in Cedar County.
Cedar Valley Stables, Inc.
1492 Harding Avenue
563-886-3752
www.cedarvalleystables.net
Enjoy horseback riding at its finest on well cared horses matched to your ability. Friendly, knowledgeable trail guides will take you over 200 acres of woods, meadows and riverside trails. A girl's horse camp is offered for ages 10 & up. Open Saturday and Sunday, April through October, closed on holidays. Lodging is available in the bunkhouse overlooking the Cedar River.
James Kennedy Family Aquatic Center
705 Park Road
563-886-2271
www.tiptoniowa.org
The James Kennedy Aquatic Center is a state-of-the-art recreation complex and is the only indoor/outdoor facility in the region. It consists of a zero-depth entry outdoor pool complete with a speed slide, a double flume slide, a lazy river, a six lane competition size indoor pool and a concession area complete with grassy areas and umbrella tables to enjoy poolside.
Old Cedar County Jail
118 West 4th Street
319-329-1785
www.oldcedarcountyjail.com
Become an "inmate" on a tour at the Old Cedar County Jail which was used continuously from 1892 until 2001. It is probably the last "Mom and Pop" jail still standing in Iowa and possibly the nation. The jail and Sheriff's house is located one block west of the Courthouse Square in Tipton. The facility was placed on the National Register of Historic Places in 2003.
Tipton Golf & Country Club
1143 Cedar Valley Road
563-886-2848
www.tiptoncountryclub.com
A beautiful 9-hole, semi-private golf course awaits you in Cedar County on the southwest side of Tipton, Iowa. It is a small club that combines both excellent golfing opportunities as well as outstanding dining. The clubhouse is open to the public and offers a quaint atmosphere to relax with family and friends.
CELEBRATE TIPTON!
Thursday on the Square brings regional musicians to the courthouse gazebo every Thursday evening in June and is held in conjunction with the Tipton Farmer's Market. The market assembles on the north side of the square during the summer months and moves to an indoor location in the colder months. You will find a wide variety of fruits, vegetables, eggs, flowers, baked goods, homemade crafts, soaps and candles at the Tipton Farmer's Market. Also, there is an additional market held on Saturday mornings on the south side of the courthouse square.